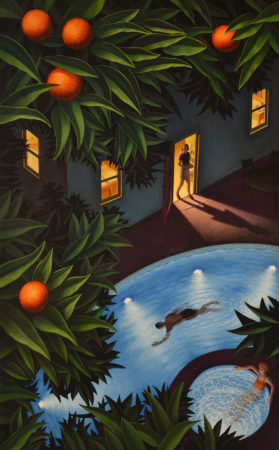 The Witching Hour.  Oil on canvas, 42″ x 26″.
The Witching Hour is a medium sized painting, in oils on canvas. This painting has caused me more personal hell than any other painting I have ever created. This enchanted, nocturnal vision of a backyard in Florida, came in a flash, one night, between the hours of 3 and 4 a.m. – the "witching hour". The dreamy vision came several weeks after a visit with relatives at a vacation rental in Dunedin, FL. The scene may be laden with wonder, and foreboding, but the people are not. The mystery is lost on them, they are civilized. Primal energy stirs, but remains unexpressed.
The winter months are when you find delicious oranges, very ripe, and still on the tree. In this painting, the oranges glow with light from above. The leaves on the trees express a rustling energy. The scene itself is primarily dark, with blue light emanating from the pool and jacuzzi, and warm light pouring from the house. At night, pools and jacuzzis look unreal, almost witchy and magical. The sky's daytime blue is below us, not above. The light is artificial. Swimmers seem to be floating in air. Half naked people stir primal longings. We are tantalized by a primitive life, like the opening bars of Stravinsky's "Rite of Spring". This illusion of freedom from restraint is captivating, and frustrating.
The people in this scene are not happy. They seem dissatisfied and unconnected, and almost too determined to enjoy themselves. The house is plain, and the interior mundane, a laptop computer sits waiting on a desk. The farther we step away from the domestic interior, the wilder the scene becomes. It is the orange trees that rustle and glow. But even the trees are cultivated. An unbound nature can be brutal and destructive. It is our dream of nature that enchants.